At Ottawa Water Ski Club, we pride ourselves on the quality of our products and services. We are dedicated to providing you with the best possible experience, which is why we use only the best equipment and employ experienced and knowledgeable instructors.
We provide all the necessary equipment and use state-of-the-art boats to give you the best possible experience.
Guest skiing is $50.00 each time Anyone can ski as guest for $50.00/visit and that includes a driver, lifejacket, ski(s) and instruction if needed. They can also bring up to 2 additional observers (friends & family) to ride in the boat

Guests can ski up to 4 times in a season without having to join the club
After 4 visit, as per insurance regulations they must join Water Ski Wakeboard Ontario and can do so with this link to the membership sign up
Club membership is $400.00/year with full access to:
Nautique 200 tournament tow boat, all our equipment including skis, lifejackets, ropes, handles, gloves, barefoot boom, exclusively permitted tournament slalom course
Boat driving privilege including instruction, slalom course boat driving instruction
Ottawa Water Ski Club t-shirt
Ability to ski on your own schedule with friends and family 7 days/week from May to October
Wakeye video rig for stable video and pictures
Addtnl charge of $4.50/minute ski time. (Skiers average 4-5 mins per outing)
Members do not pay per visit, they pay in mid-season and end of season
5 nationally certified coaches
Novice, intermediate, advance, expert instruction
Basic two-ski beginner, learn to slalom ski, trick skiing, barefoot
Side mounted boom teaching aid
Learn to ski package – 3 visits during the season, all instruction and equipment, flexible scheduling, $130.00 for 3 lessons!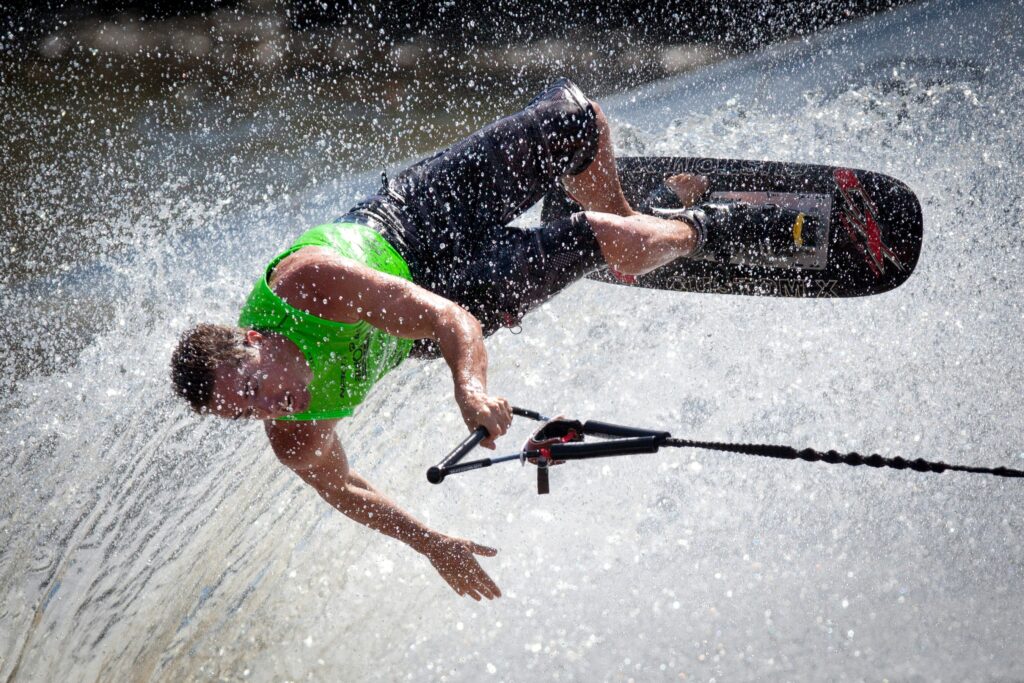 Our Nautique 200 tow boat has earned a reputation as one of the best boats in the competitive waterskiing scene. With its state of the art handling and impressive design, it has become a favorite of both professional and recreational athletes.
One of the standout features of the Nautique 200 is its small and soft wake. This means that the boat creates minimal turbulence behind it, which allows athletes to perform greater ease and precision. The smaller, softer wake also makes it makes it ideal for novices and pros alike.
Another key feature of the Nautique 200 is its Zero Off speed control system. This advanced technology uses satellite signals to maintain a precise speed. This means both the driver and athlete can focus on their performance without worrying about speed fluctuations or other distractions.
And for those chilly days on the water, the Nautique 200 even comes equipped with a heater. This ensures that athletes can stay warm and comfortable, even in cooler weather conditions.
Overall, the Nautique 200 tow boat is a top choice for those who demand the best performance and features from their watercraft. With its small and soft wake, advanced speed control system, ample storage space, and built-in heater, it's easy to see why it's considered one of the best boats in the industry.
We take pride in offering a wide range of equipment to suit the needs of all our members. We understand that everyone has different abilities, sizes, and preferences when it comes to water skiing, which is why we have a diverse range of skis and lifejackets to choose from.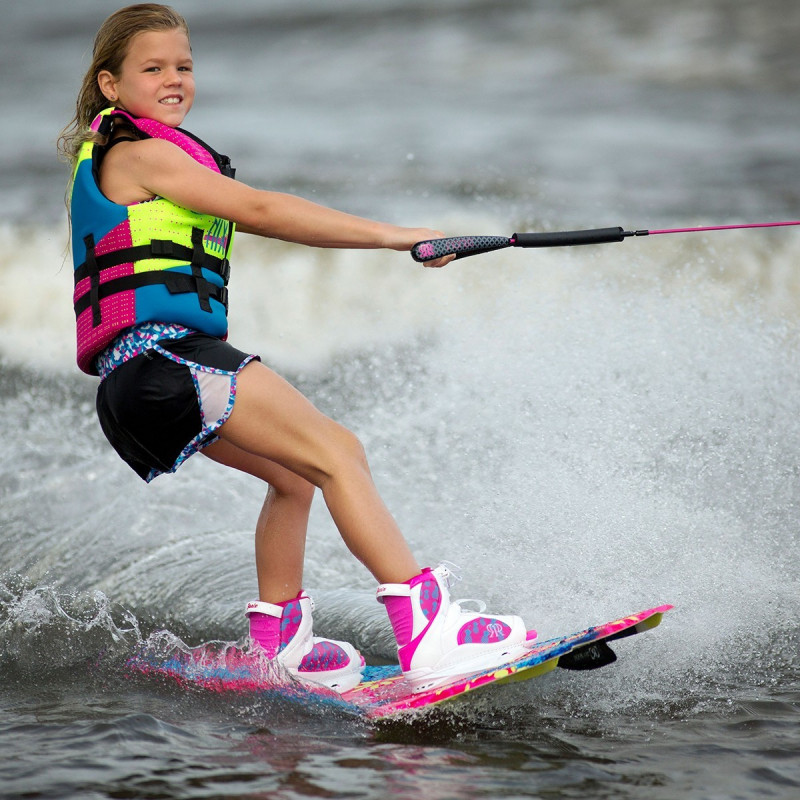 For those who are just starting out, we have two ski combination pairs that are perfect for learning the basics. These skis are wider and more stable, making them easier to balance on and control. They are a great option for children and beginners who are just getting their feet wet in the world of water skiing.
For more experienced skiers, we have slalom skis that are designed for speed and maneuverability. These skis are narrower and more streamlined, allowing skiers to cut through the water with precision and control. They are ideal for those who are looking to take their skills to the next level and tackle more challenging courses.
For those who want to try something different, we also have trick skis. These skis are shorter and wider than traditional skis, and they are designed for performing tricks and stunts on the water. They require a bit more skill and practice to master, but they can be a lot of fun for those who are up for the challenge.
No matter which type of ski you choose, we have lifejackets available for all sizes of men, women, and children. Our lifejackets are regularly inspected for safety and comfort, and we always make sure to have a variety of sizes and styles on hand to suit everyone's needs.
At our water ski club, we are dedicated to providing a safe and enjoyable experience for all our members. That's why we make sure that all our equipment is up to date and regularly inspected for safety and performance. Whether you're a beginner or an experienced skier, we have everything you need to enjoy the thrill of water skiing to the fullest.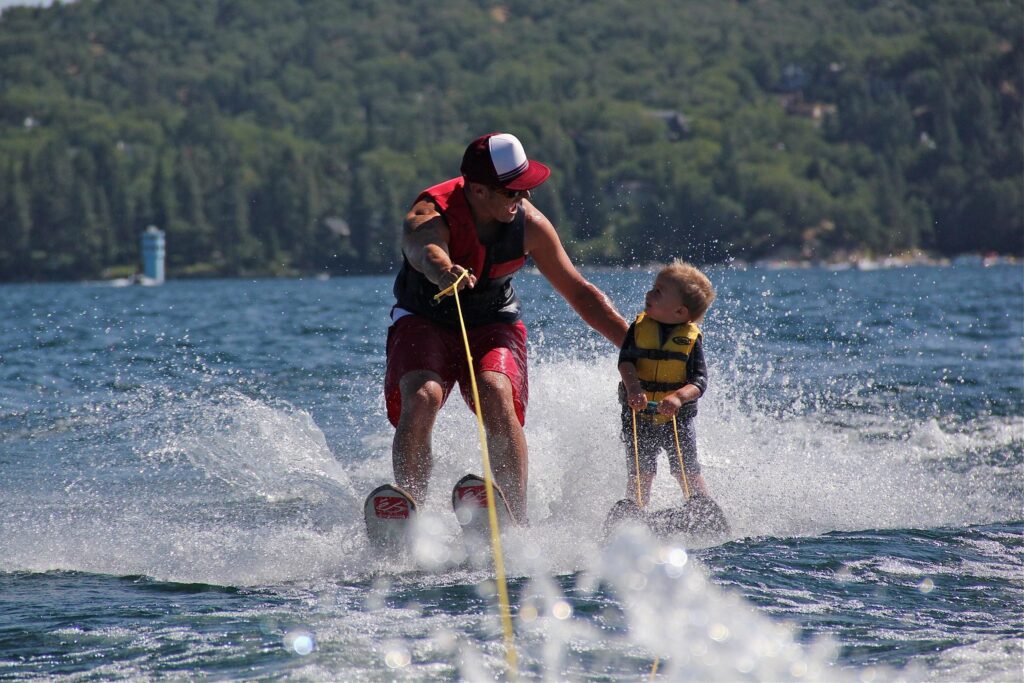 Our experienced and certified instructors provide personalized lessons that cater to your skill level, ensuring that you learn in a safe and fun environment. We also offer free equipment, so you can enjoy your favorite water sport without having to invest in your own equipment.
You can try us out once or we also offer a learn to ski package that includes three separate visits, each with a lesson, use of our equipment and instruction from nationally certified coaches.
That's less than $45.00 a lesson!
How does the beginner instruction work
Our instruction begins with dry land training. This will get you familiar with the basics on stance, how to get up out of the water, rope control etc. Next we'll head out in the boat and we'll start you in the water. You can try from the back of the boat (traditional) or you can use a "boom" out of the side of the boat. The boom is an invaluable teaching aid that allows the skier and instructor to be next to each other and provides for more body control for the skier. Once you're comfortable on the boom we can try you on the rope out of the back of the boat (traditional)
For those that want they can use a nationally certified progression program called Rip'n Ride. Rip 'n Ride is a scorecard type program where beginner to intermediate skiers can check off their next step in their progression and know what to focus on to build on their technique.
For any advanced slalom skiers we have a private, exclusively permitted slalom water ski course to apply your skills to.
How long can I water ski for?
As a beginner skier you're welcome to ski for as long as you want but after 50 years of skiing ourselves and teaching many others we know that the intensity of the activity is such that you'll be impassioned with the thrill, but similar to a heightened gym visit you'll want to preserve your strength for your next visit.
Thank you for choosing Ottawa Water Ski Club, where we are always towing the line for you!. It is the longest-standing and largest water ski club in Ottawa. The club was founded by Pat Messner, a slalom specialist and holder of Canada's only Olympic medal in water.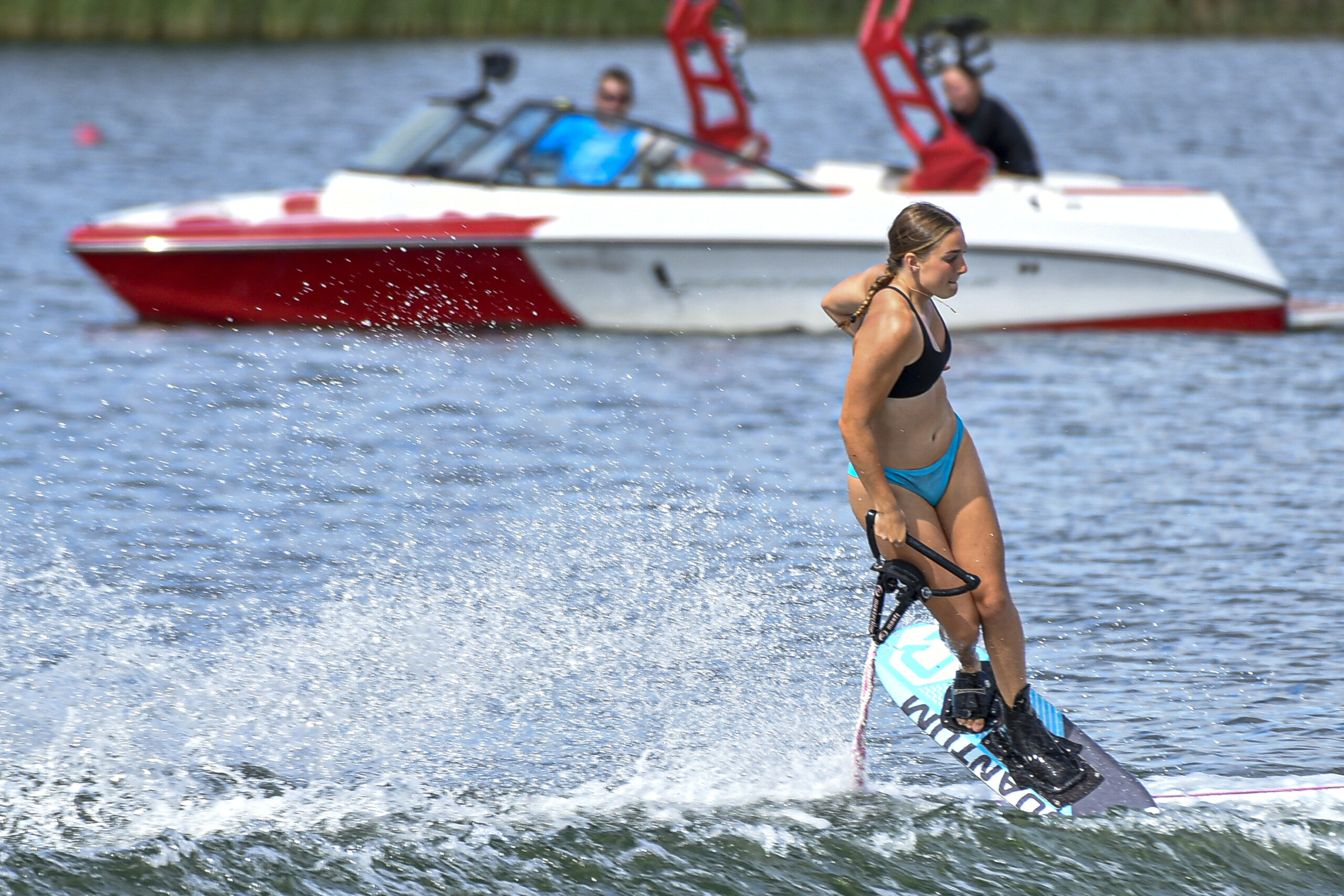 I'm interested! How can I book it?
At our water ski club, we welcome both members and guests to come and enjoy the thrill of water skiing. Membership is available for those who want to make water skiing a regular part of their routine, while guests can come and ski anytime up to 4 times. After 4 times, insurance regulations means you'll have to join our provincial sport organization.
Membership at our club costs $400.00, which gives you access to our facilities and equipment throughout the season. As a member, you can come and ski as often as you like, and once approved you can drive the club boat.
If you're not ready to commit to a full membership, we also offer guest skiing for $50.00 per visit. This is a great option for those who want to try water skiing for the first time, or for those who are visiting the area and want to enjoy some time on the water. As a guest, you'll be able to enjoy the thrill of water skiing without any long-term commitments.
Whether you choose to become a member or a guest, you can rest assured that you'll be skiing in a safe and supportive environment. Our club members are experienced water ski enthusiasts s who are dedicated to ensuring that everyone has a fun and enjoyable experience on the water. We also have strict safety protocols in place, and our equipment is regularly inspected and maintained to ensure that it's in top condition.
To book your skiing just email us or give us a call.